Washburn Iron Works, Inc. is a family owned and operated gr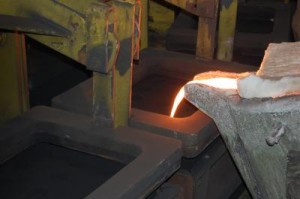 een sand foundry. We are committed to providing our customers with high quality, well priced castings, delivered on time.
We produce Gray Iron in grades 25,000 PSI through 40,000 PSI and Ductile Iron in grades 60-40-18, 65-45-12, 80-55-06 and 100-70-03.
Our four molding machines have been set up for maximum efficiency and accuracy. Each machine has a different size capability which allows a great deal of flexibility in casting. The range of sizes is from a small 16"x20" to the biggest of 30"x30". We can pour both Gray and Ductile iron on all of our machines.
Our continuous mold handling machines are a Roto Matchblomatic and a Hunter Automatic, each mated with a mold handling line. The Roto uses 16"x20" flasks and the Hunter uses 20"x24" flasks. These machines are usually for small to medium castings with estimated annual usage over 100 castings.
The larger castings run on the Cope and Drag and the Pin Lift machines. The molds on these machines are made one-at-a-time with high operator input. Their size ranges from 22" square to 30" square.
We make most of our cores on-site using wood, plastic, aluminum, or iron core boxes. Our core room utilizes oil, air, CO2, and shell core processes offering us flexiblity in choosing the proper type and size of core for the casting.
Our 1000 kW induction Dual Trak Power Supply powers two 3000 pound coreless furnaces. Surprisingly, Washburn Iron Works uses more electricity in one month than an entire neighboring town.
Induction Furnace
The Quality Control program we utilize includes a process control per pattern to ensure each pattern is properly prepared for molding, an Optical Emissions Spectrometer to check the quality of each batch of iron, a Hartley Sand Control System and CMM for accurate measurements to customer specifications.
During 2004, WIW began a major expansion of its building to improve the molding flow and layout of the casting processing. This expansion was completed in the Fall of 2005 and helped improve lead times and productivity. The total facility grew to over 50,000 square feet during that expansion. In 2008, Washburn Iron Works became the first small foundry to incorporate an Advanced Oxidation System to aid in the reduction of casting defects and emissions. Most recently WIW has installed a robotic finishing cell to improve throughput and accuracy in the finishing department. We are continually reinvesting in the company to improve operations.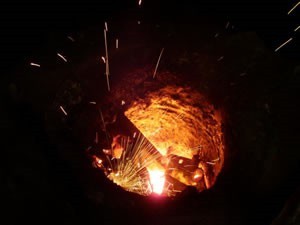 Washburn Iron Works is serviced daily by several truck lines such as: Con-Way Central Express, US Special Delivery, Rusch Transport, Lakeville Motor Express, N&M Transfer and various other inter-line and common carriers.
We produce quality castings for the following segments of the economy;
Hydraulic torque converters, marine and power shift transmissions, universal joints,gas turbines starting drives:power take-offs, mechanical, pneumatic and hydraulic clutches,exhaust fans, ventilation systems, centrifugal blowers, speed reducers, gear boxes,sprockets, farm and recreational equipment. Air-cooled motors,lawn and garden tractors,pumps, hydraulic valves, electric motors, food processing, railroad parts.